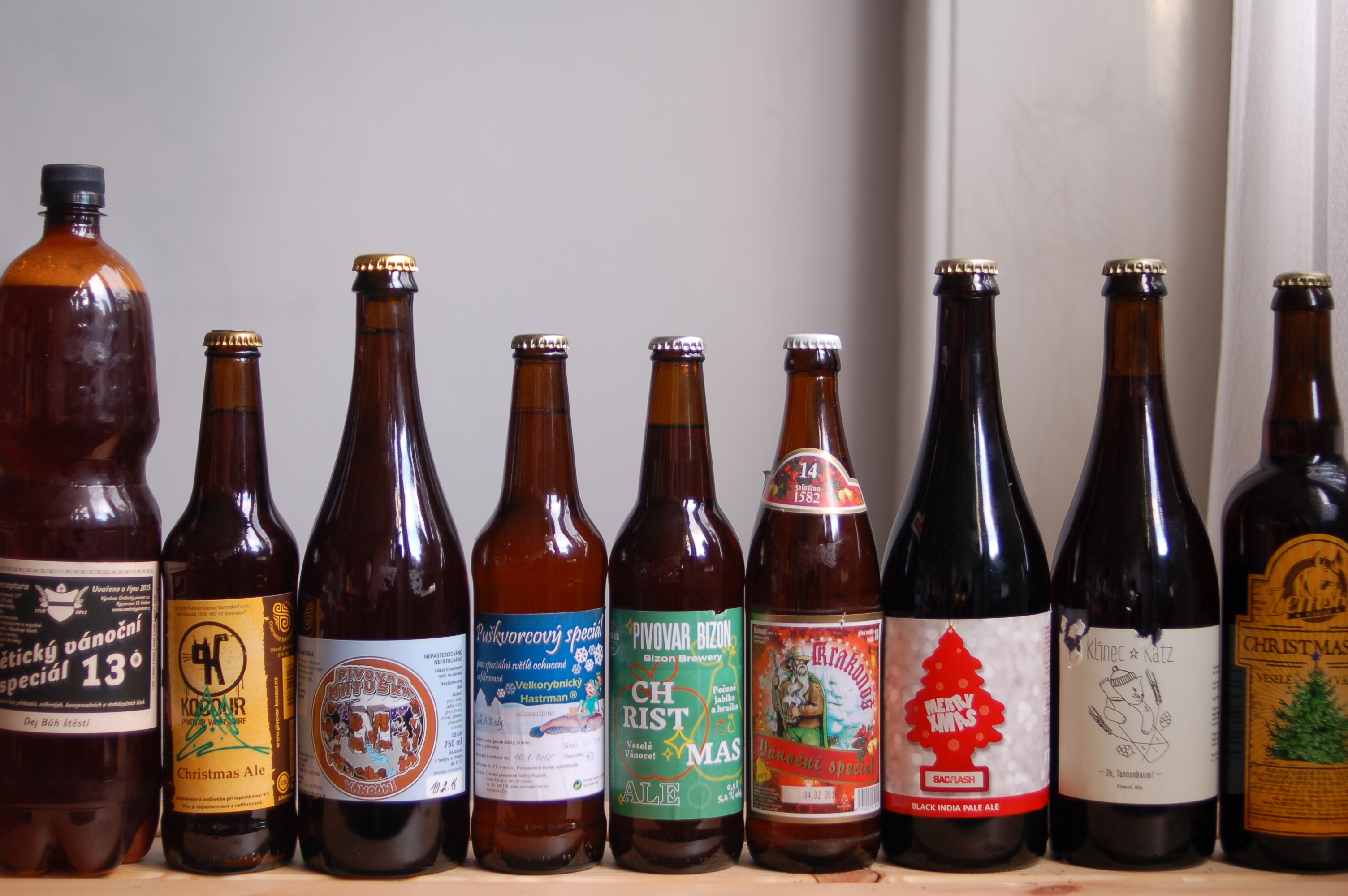 What a difference a few years — okay, eight years — makes. When Beer Culture relaunched as a weblog from its original newspaper column back in 2007, almost all Czech Christmas beers were of the old model: slightly stronger than normal pale lagers with about 6% alcohol by volume. That is, if the brewery didn't just slap a Christmas label on their standard pale lager or standard special and simply call that their Christmas beer.
But here we are at the end of 2015, with a bunch of interesting brews, many of which come from Czech brands that didn't even exist in 2007.
This week I stopped by the great bottle shop at Zlý Časy in Prague, where I picked up bottles of the nine Czech Christmas beers that they had in stock. Here's what I got: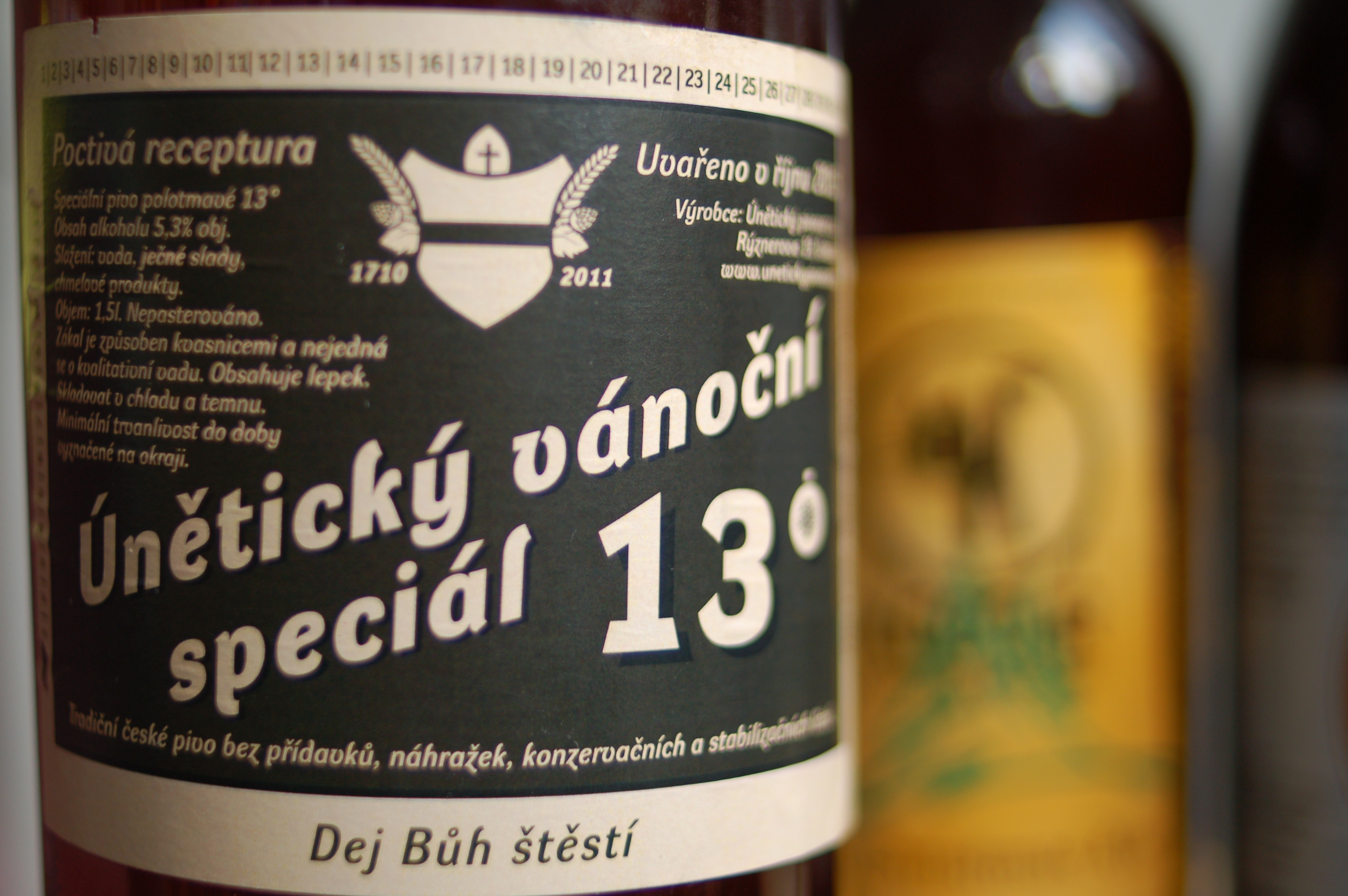 Únětický Vánoční Speciál 13º — The much-hailed small brewery from the village of Únětice, just north of Prague, is offering its speciál (meaning stronger than 13º Plato, according to Czech beer regulations) polotmavé, or half-dark (aka amber) brew with 5.3% alcohol in 1.5-liter plastic bottles. (You can also find it on draft.) I love everything from Únětice, but when I've tasted this one in previous years I haven't ever loved it as much as their regular lagers, which are crazy good. Your mileage may vary.
Kocour Christmas Ale — Another polotmavé, the label on this top-fermented brew notes that it was created by the visiting American brewmaster Cullen Dwyer, who left these parts back in early 2010. What a legacy. Someone please tell Cullen they're still brewing his recipe at the brewery up in Varnsdorf. 6% alcohol.
Pivovar Matuška Vánoční — Another top-fermented brew from cult Czech craft brewer Matuška, which says it was made in the "Extra India Pale Ale" style. No hops listed, unfortunately — although transparency really is a growing theme here, as we'll see below. But the label does tell us that this little guy contains 7.8% alcohol, so play hard but play safe, everyone.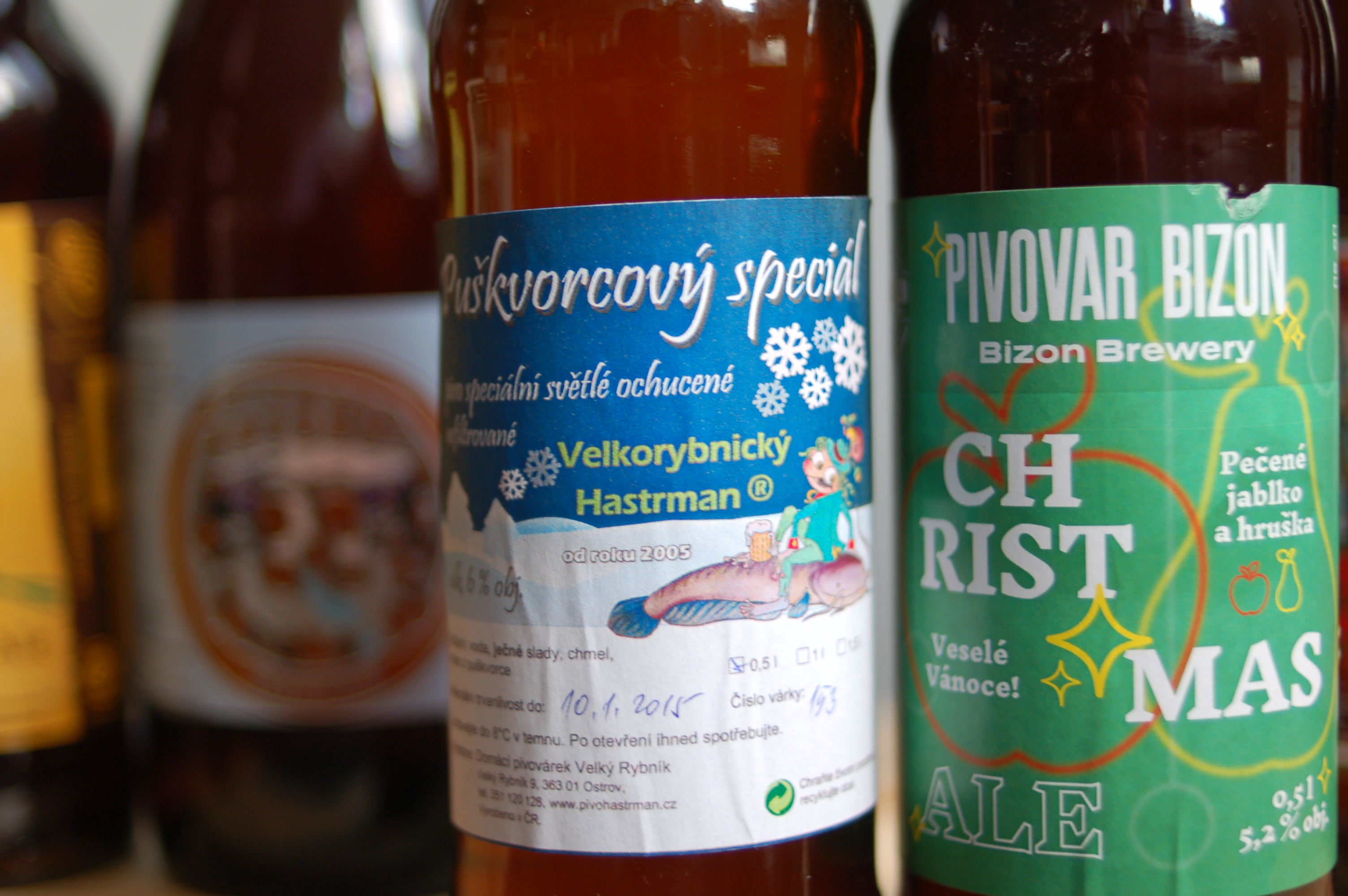 Puškvorcový speciál from Velkorybnický Hastrman — Since it launched in 2006, West Bohemia's Hastrman has turned out some truly interesting brews, including one of the Czech Republic's first Alt-style beers. Their Christmas offering is brewed with the kořen, or root, of puškvorec, aka sweet flag, a traditional ingredient in beers for the past 800 years, give or take a century or two. You can taste the puškvorec as an herbal note with a lasting residual sweetness — it's called "sweet" flag for a reason, folks. For once, please don't whine about diacetyl. 6% alcohol.
Pivovar Bizon, Christmas — This top-fermented beer from this newish brewery near Pilsen lists pečené jablko a hruška, or baked apple and pear, as ingredients. 5.2% alcohol. I'm curious about this, since brewing with real fruit is so rare in the Czech Republic today. I'll update this post with tasting notes once I get around to sampling it.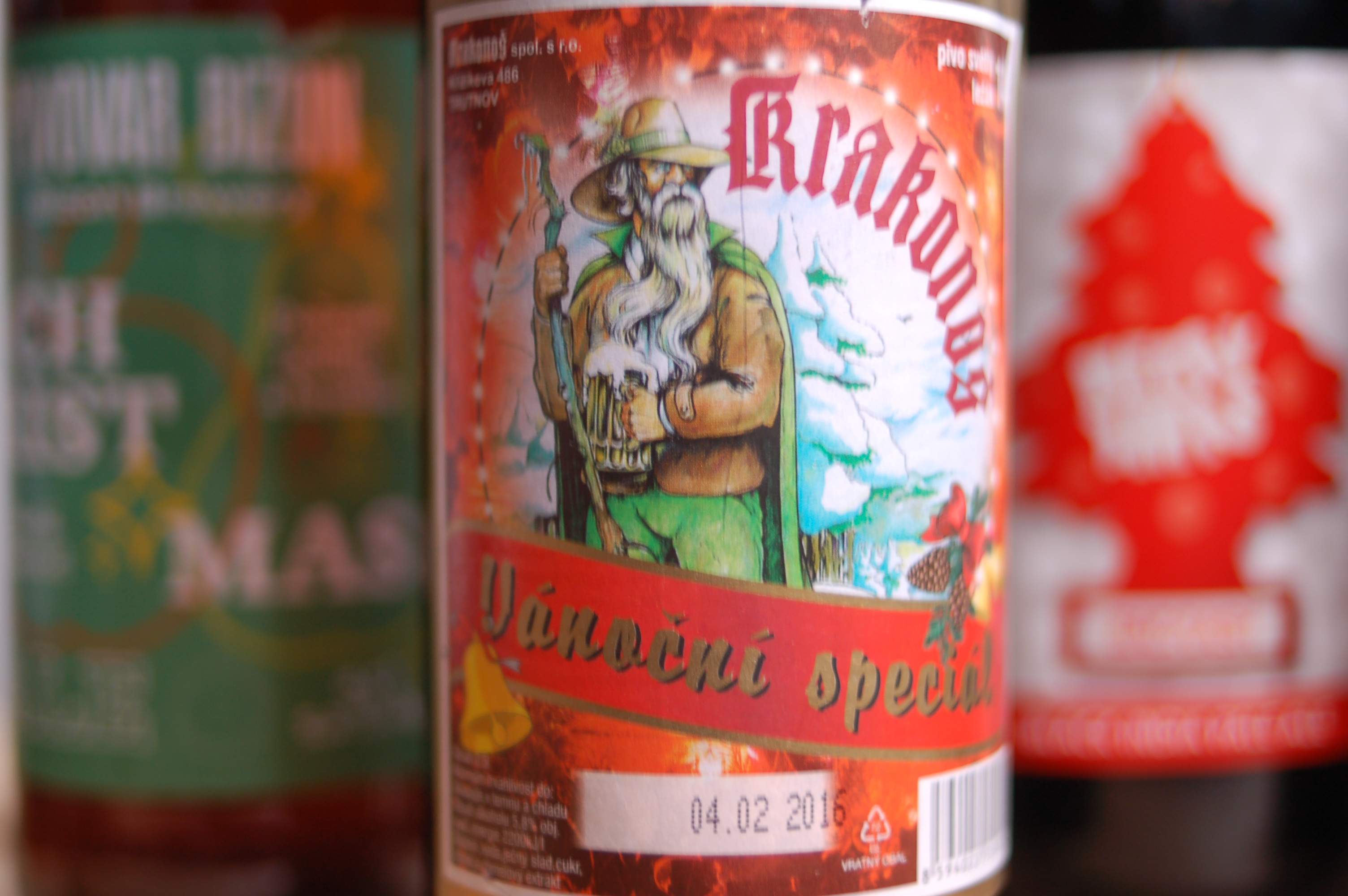 Krakonoš Vánoční Speciál — Has it only been seven years since I last wrote about this one? (Get the not-entirely-uncool story of the brewery's name at that link.) This is the same ol' brew in that relatively classic Czech Christmas-beer style: a pale lager, brewed at 14º Plato (or Balling), with 5.8% alcohol. Worth noting: it has recently become common to call beers like this "Imperial Pilsners," even in this country, which is ridiculous. (When I once asked a Czech brewer what "Imperial Pilsner" meant to him, he replied, "It means Bock.") Krakonoš is a favorite marque for a certain group of traditional Czech beer lovers; I'm one of them.
Bad Flash Merry Xmas Black India Pale Ale — Explaining the whole "Bad Flash" thing is going to take more than one or two posts: suffice it to say that this is a beer-brewing and beer-dispensing collaboration between the pub Zlý Časy (which didn't serve decent beer when Good Beer Guide Prague and the Czech Republic came out) and Kulový Blesk (which you also need to visit if you like good beer, and which also didn't exist at all when Good Beer Guide Prague and the Czech Republic came out. Time keeps on slipping, and so forth.) This brew is truly enjoyable and it drinks a lot faster than its 6.9% alcohol would have you believe. In a fit of highly transparent labelling, we're told that it was made from Bavarian, Vienna, caramel and barvící, or colored (meaning very dark, akin to Carafa) malts, along with Amarillo and Bravo hops, at an original gravity of 16º. Gracias, amigos, for the information. Now where was it brewed?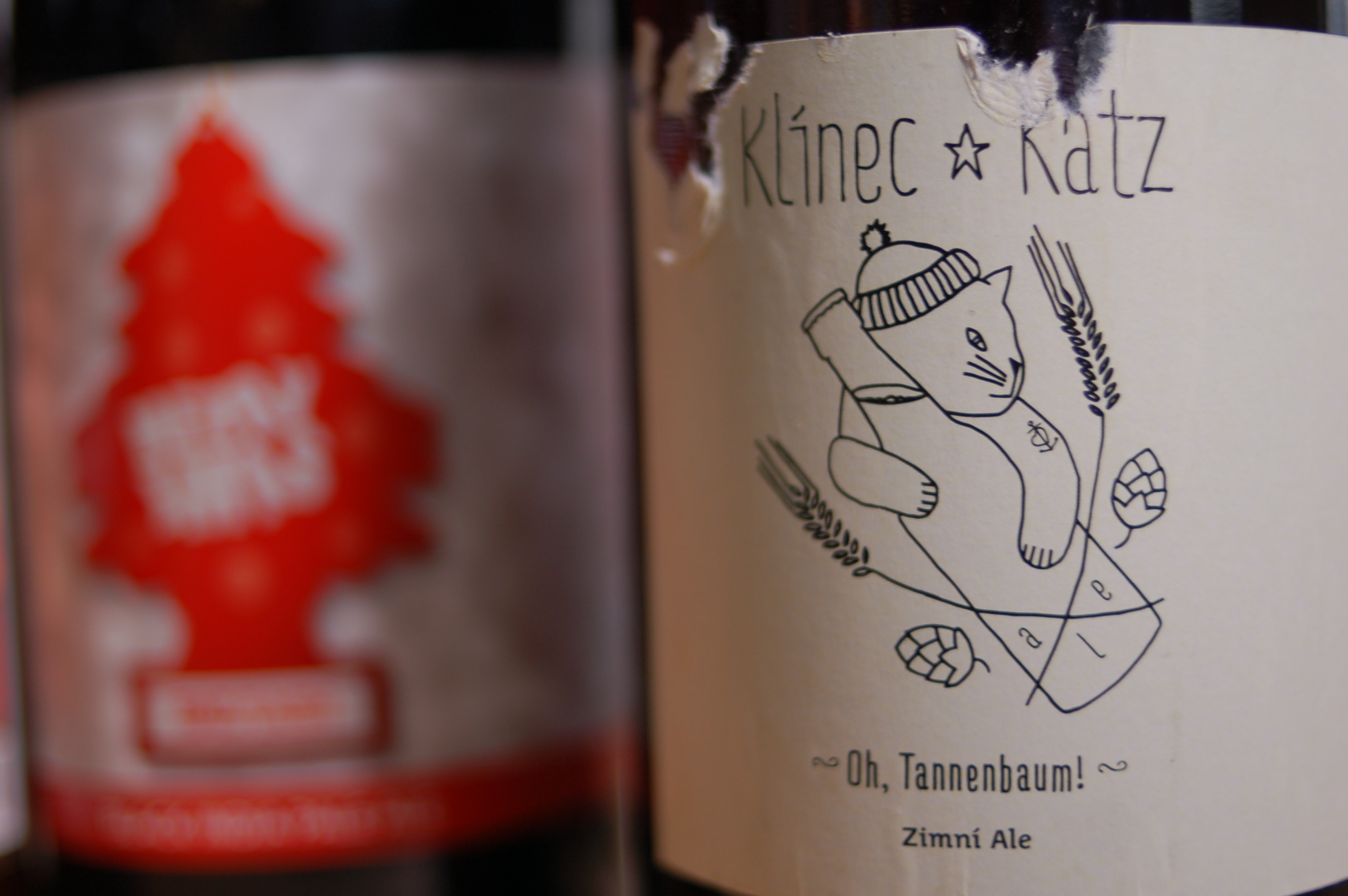 Klínec-Katz, Oh Tannenbaum! — This relatively new "flying brewery" uses different brewing facilities wherever it can find spare capacity, a growing trend here and elsewhere. The label says that the Klínec-Katz Christmas special was made with rye malt, wheat malt, barley malt and Madagascar vanilla, and that it was brewed by Kínec-Katz in the wonderful Minipivovar Labuť in the very scenic North Bohemian town of Litoměřice. Haven't tasted it yet, but for the transparency of stating where it was brewed, among other reasons, I'm inclined to like it. 5.5%.
Zemský Pivovar Christmas Ale — The openness of other not-actually-breweries (or in this case, not yet) is absent with this particular "flying brewery," as the beer does not tell us where it was made, nor does it list its ingredients terribly clearly. What we do hear is that it was brewed at 13.5º Plato with "special malts," using "European and American hops" and that it has a "characteristic" aroma of "cinnamon and cloves," thought no spices are listed among the ingredients. It does taste like a cinnamon bomb, in a good way, but how that is achieved without the actual use of cinnamon (?) is beyond me. Very nice, but more simple truth and less marketing on the label would be appreciated. 5.7% alcohol.
There are many more Czech Christmas beers out there, including one of my all-time faves, the 17° Sváteční Speciál from Broumov. If you've tasted any of these — or any other Czech Christmas brews — feel free to leave your thoughts below.