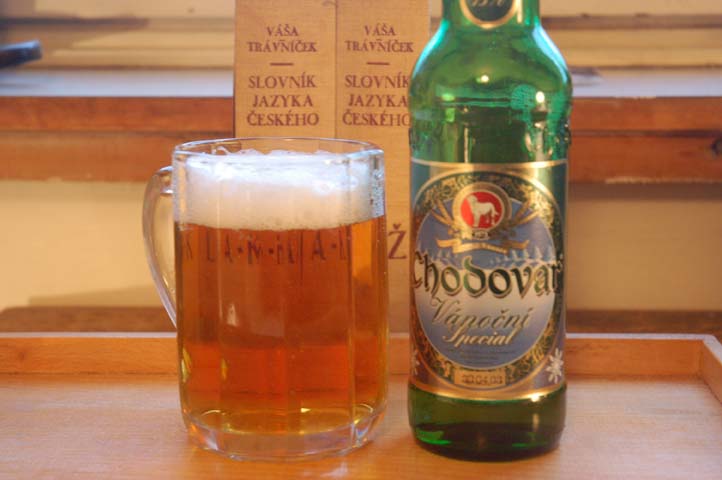 The Czech Republic is home to a whole bundle of brews from specific places: known quantities like Pilsner Urquell (from the West Bohemian town of Plzeň) and Budějovický Budvar (from České Budějovice), as well as rarer birds like Žamberk's fantastic Žamberecký Kanec, Pardubice's Pardubický Porter, Velichov's impossible-to-find (but oh-so-worth-it) Velichovský Forman, along with about 500 other truly outstanding local faves. But in the midst of this very rich beer culture, what we don't have are many brews that are specific to a certain time of year. One of the few exceptions is showing up right about now: Vánoční piva, or Christmas beers.
Occasionally called sváteční piva (holiday beers), Christmas beers are brewed at higher gravities than standard Czech lagers, generally starting at 13° and heading north fast, resulting in slightly (or much) higher alcohol than normal. (It's cold here, people — we need something to get the blood going.) Unfortunately, these are almost always limited editions and can be very difficult to find, either on tap or in bottles.
But just this weekend, the Vánoční pivní trhy (Christmas Beer Markets) takes place at Prague's Výstaviště exhibition grounds, serving about a dozen of these unique winter warmers, as well as a one-off special created especially for the festival.
Taking place Friday through Sunday, December 14-16, the Christmas Beer Markets are set to include tastings, seminars on food and beer pairings, a commemorative tasting glass from Sahm, as well as the release of Old Ale, a top-fermented Czech brew with 8.2% ABV. The Old Ale has been brewed especially for the Christmas Beer Markets at Minipivovar Žamberk using a recipe from Jan Šuráň of Pivovarský dům and a blend of eight yeasts selected by David Bryant of Colorado's Brewing Science Institute. (This is only one of several Czech-American co-productions that have been showing up lately, but more on that another time.)
The hours for the festival are Friday 13-19h, Saturday and Sunday 10-19h. Entry is 25 Kč (about $1.50, or just under €1), with an extra 50 Kč for the Sahm tasting glass. It's certainly not hard to find: Výstaviště is the very large exhibition grounds in Praha 7-Holešovice, a massive Secession building next to the even-more-massive T-Mobile Arena. It has its own tram stop ("Výstaviště") and is served by the 5, 12, 14, 15 and 17 trams. If you catch a 17 tram at Staroměstská (direction Sídliště Ďáblice), you'll be there in about 10 minutes.
The growth of Christmas beers is a welcome addition to our local beer culture: it wasn't long ago when most brewers here just added a Christmas label to their regular beers without changing the recipe in the slightest. Recently, however, it's become a time for breweries to show off what they can do with a touch more alcohol and stronger flavors. For example, the Christmas beer currently on draft at Prague's Klášterní pivovar Strahov is brewed at 19° and ends up with 7.7% alcohol. According to my colleague Max Bahnson, el Filosofo Cervecero, it's a rich amber in color and is amazingly hoppy in the finish.
By way of contrast, this year's Vánoční special from West Bohemia's Chodovar is brewed at 13° and ends up with 5.1% alcohol. It's a clear deep gold with very mild carbonation, a malty nose and a full malt body and flavor in the mouth, followed by a pleasantly bittersweet finish. However, it's worth noting that this is exactly the profile of Chodovar's year-round special, which also is brewed at 13°, and also with 5.1% alcohol. So is this really a Christmas beer, or is it just the standard special with a new label?
The point of this column is to ask exactly that kind of question — and to answer as many such queries as we can. In the coming weeks and months we'll bring you regular news on beer and brewing from around the Czech Republic and further afield, including a more detailed look at that 19° Christmas beer from Strahov and two new brewpubs set to open in Prague. Got questions? Send 'em in. Got comments? Post away. Until then, na zdraví!