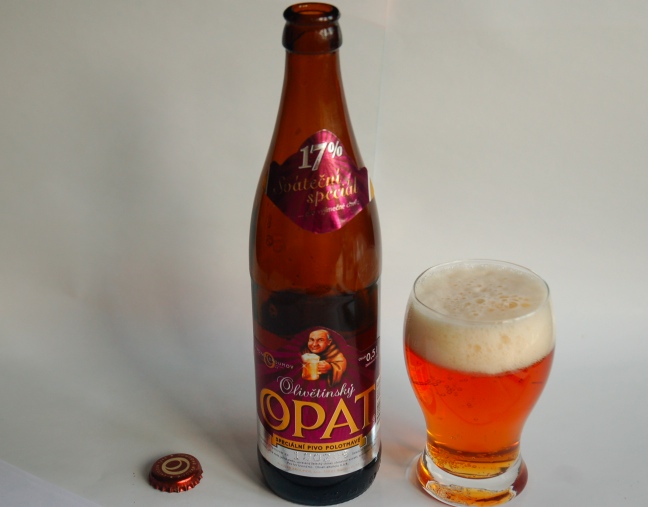 Pivovar Broumov — aka Opat — is one of the country's most interesting small breweries, regularly making an appearance at the Czech Beer Academy's beer tastings with their "extra-hopped" medium-bodied beer, Opat Bitter extra-chmelené, one of the most aromatic pale lagers in the country. Other noteworthy models from Opat include beers flavored with honey and a new arrival made with coriander.
But this time of year is for Opat's great Christmas brew: the 17° Sváteční speciál. Among Czech holiday beers in bottles, this one stands out.
In part, the Opat — or Abbot — has a much higher profile because it's one of the stronger such brews, brewed at 17° Plato / Balling and bearing 6.6% alcohol, rather than the typical 14° Plato and 6%. However, it carries its higher payload quite subtly.
There's actually quite a bit of subtlety going on: it pours a beautiful light amber with a loose, creamy head (and describes itself as a polotmavý, or half-dark). At refrigerator temps, the nose is rather attenuated; at cellar temperature and higher, the bouquet starts to open up with hints of vanilla, pie spices and stewed fruits. In Czech food terms, it smells just like povidlová buchta with a rich vanilla cream sauce. Ask your babička.
The mouthfeel is only slightly chewy; the carbonation is minimal. There are more vanilla and spice notes in the mouth, as well as serious hints of honey and caramel. (The beer is not brewed with spices, however: it just tastes that way.) The sweet initial flavors are followed by a pleasant astringence and a lasting aroma of Saaz hops.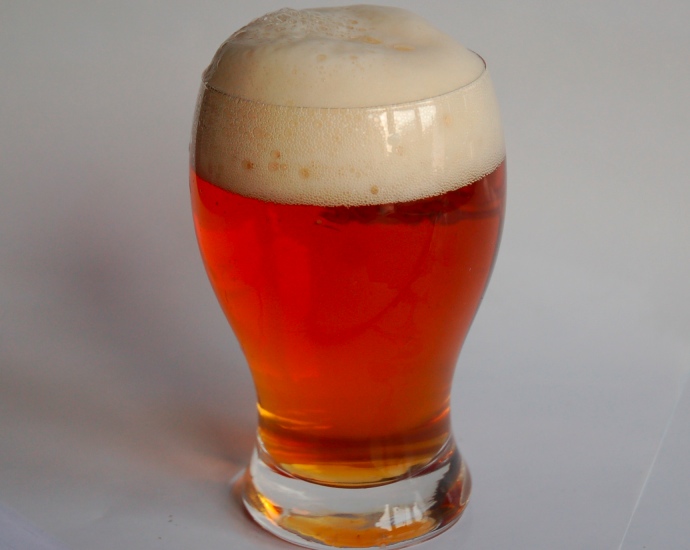 Opat 17° Sváteční speciál is a minor classic: perhaps not something you'd need to drink every day, but certainly something you wouldn't want to miss over the holiday season. Though it has dessertlike aromas and flavors, those would really disappear when paired with a sugary holiday sweet, instead highlighting the beer's innate bitterness. Instead, I'd consider pairing this with a creamy soup or a moderately sweet cream sauce like svičková to play off the difference in mouthfeel and the beer's peppery hop notes.
Whatever you eat with it, do so while you can: I found my bottle at Pivovarský klub, and they also carry it at several Opat outlets in Prague and around the country. The sign outside the new Vinný ráj (Za Poříčskou branou 11, Praha 8; just steps from metro Florenc and one block from Pivovarský klub), says that it is currently available in bottles, with the lovely Bitter extra-chmelené on draft.