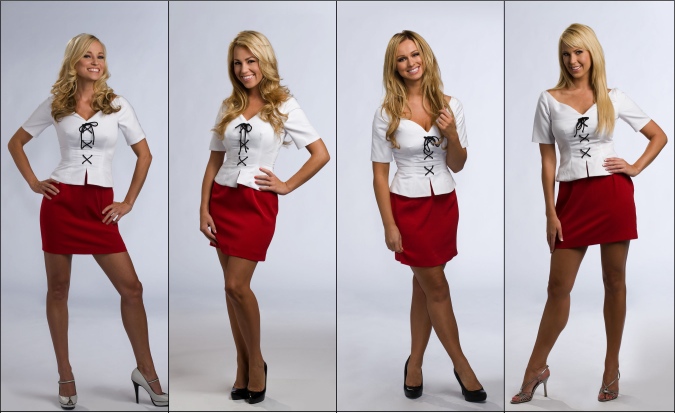 Site news: as part of our tinkering under the hood around here, we've had Google Analytics functioning for the past two weeks. The results are surprisingly good — who knew that a bunch of old articles about beer would crank up thousands of pageviews every week?
What's also surprising is seeing just what people are reading. Here's the list of Beer Culture's most popular posts and pages for the past two weeks:
For some reason, our post on Katarina Van Derham, last year's St. Pauli Girl, really hit a nerve and is now our most popular read, even though the photos at that page don't seem to display correctly. (If it's working above, Ms. Van Derham is third from the left.)
Not so surprisingly, the story (and review) of Czech beer cosmetics is number 2 with a bullet.
Whatever happened to Beer Culture, our "we're back" post, comes in at number 3.
A post on Pivovar Platan being purchased by K Brewery Trade is number 4, quite possibly because people are interested in knowing where the new beer called Lobkowicz is being made, since it's not at the brewery that used to be called Lobkowicz.
The must-see visualization of beer consumption by country, courtesy of Snippets.com, is number 5.
Number 6 is about the return of Krušovice Černé, a legendary Czech dark lager that was once great, then bad, and now pretty good.
Our seventh most popular point is the page that pimps Good Beer Guide Prague and the Czech Republic. (Someday I'll figure out how to get that page not to display the link to that page in the sidebar.)
The tag "Primátor," calling up all articles related to the Primator brewery, is number 8.
Number 9 is the post that could have been titled "On First Drinking Pivovar Kout Na Šumavě's Beer, in the Town of Domažlice." (That's from February of 2008. It's hard to believe that just over two years ago, Kout beer — now a favorite of many — was completely unknown in Prague.)
And the tenth most popular thing you're reading is on the Czech Republic's beer map, which might already be in a second edition, according to scuttlebutt.
More soon. Now back to the wrenches, pipes and wiring…