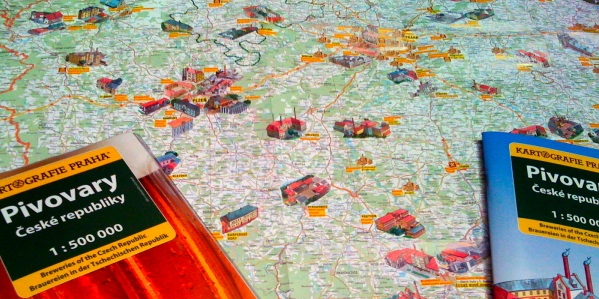 When my wife and I were preparing our research trips for Good Beer Guide Prague and the Czech Republic, we first had to make a map. We came up with a list of breweries based on information in the Pivovarský kalendář, a publication of the Czech Research Institute of Malting and Brewing, and cross-referenced it with the breweries' own web sites. Once we had all the addresses, we bought a regular map of the Czech Republic and marked the breweries on it with little red dots. That homemade Czech beer map became an invaluable research tool, helping us to visit every brewpub in the Czech Republic at the time and most of the country's industrial brewers.
Now a local publisher has put out a professional map of all the breweries in the Czech Republic.
Called "Pivovary České republiky," or "Breweries of the Czech Republic," the new map covers the entire country on one side, with detail maps of Prague, Pilsen and smaller regions on the reverse.
It is accompanied by a small booklet listing the various breweries, with a few words on their histories in Czech, English and German. Unfortunately, it doesn't include much on the types of beers they make, or how to get there. And it won't tell you how the beers taste.
Regardless, it's a great addition to the Czech beer canon. Printed by Kartografie Praha in 2009, the new map includes 126 breweries, including new producers in Chotěboř, Varnsdorf, Pilsen and Moravskoslezský kraj. Both breweries and maltings are depicted, as well as brewing museums and the country's three principal hop regions of Žatec, Ústěk and Tršice. It is currently available at most Czech bookstores for 149 Kč, or about €5.50.
Just as we did when we researched the original guidebook, we're about to take off for some more research trips this summer. This time will be a bit different: we'll be accompanied by our junior beer writer, for one thing, and we're now stocked with a GPS navigation unit and constant access to Google Maps, as well as a bigger car and a better idea of how to do beer tourism in the Czech Republic. In the place of our old, homemade chart, we'll probably plan our routes using this new map from Kartografie Praha.
And yet there's still something charming about a homemade map. When I visited Beer Planet in Brussels for a story last summer, the guys there showed me the map they used to pick up beers from breweries around Belgium. I was instantly reminded of our old beer map of the Czech Republic. And I was suddenly very thirsty indeed.