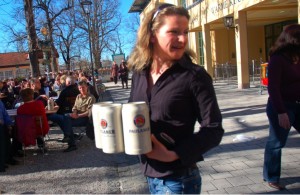 We're just back from Munich, where Starkbierzeit kicked off last weekend, running through March 8 of this year. A few notes about the festival whose name means "strong beer time."
1. With 7.5% alcohol by volume, the beers really are quite strong.
2. The use of the Maß, a 1-liter serving vessel, makes it very easy to underestimate your intake. (When it comes to Starkbier, "I've just had two beers" can be parsed as "I've just had four half-liters" and in amount of alcohol is equivalent to saying "I just drank six premium lagers.")
3. If you want to check out people wearing traditional Bavarian costumes — young codgers as well as old — the best spot is outside in the Paulaner beer garden at Nockherberg.
4. Starkbier mostly seems to be a time of year, not a set style, at least not beyond the high original gravity of 18° or more. Some breweries produce an amber strong beer, some golden; some serve crystal-clear beers, some cloudy Naturtrüb versions.
5. The Forschungsbrauerei is one of the smallest breweries around and is a must-see for their St. Jakobus Blonder Bock, an outstanding golden Starkbier brewed at 19.5°, though still finishing with 7.5% ABV. It has more hop notes (with 100% Hallertau, mostly in the form of whole cones) in the finish than most brews in this part of Bavaria. Take the S6 train to the Perlach station and either carry a GPS, use Google maps, or bring a copy of the map on the website.
6. Second-favorite Starkbier: the unfiltered Naturtrüb Unimator at Unions-Bräu. (Nice Helles, too.)
7. Third-favorite Starkbier (and one of the best among the town's high-volume producers): the malty, deep amber Maximator at Augustiner-Keller, which also had some of the most agreeable atmosphere.
8. Munich is about four hours from Prague by car and just over six hours by train. If you're here, Bavaria is an easy getaway for a weekend. If you're there, consider coming here. (Once again, beer travel between Prague, Pilsen, Munich and Bamberg is quite doable.)
I'll be writing a longer piece about Starkbier for the American drinks and culture magazine Imbibe, but that's the gist of what I can remember. The well-kept local traditions in Munich are truly impressive, so much so that after a while you feel odd because you're not wearing Lederhosen. Furthermore, the wonderfully social aspect of a European beer garden is something that I've never quite found in America — people can actually get together, make friends with their neighbors, meet up with old acquaintances and celebrate (the end of winter in this case) by raising a mug or two without burning down the neighborhood or shooting anyone, even after knocking back some truly strong stuff. There's a lesson in this for sure.