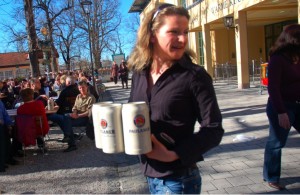 We're just back from Munich, where Starkbierzeit kicked off last weekend, running through March 8 of this year. A few notes about the festival whose name means "strong beer time."
1. With 7.5% alcohol by volume, the beers really are quite strong.
2. The use of the Maß, a 1-liter serving vessel, makes it very easy to underestimate your intake. (When it comes to Starkbier, "I've just had two beers" can be parsed as "I've just had four half-liters" and in amount of alcohol is equivalent to saying "I just drank six premium lagers.")
3. If you want to check out people wearing traditional Bavarian costumes — young codgers as well as old — the best spot is outside in the Paulaner beer garden at Nockherberg.