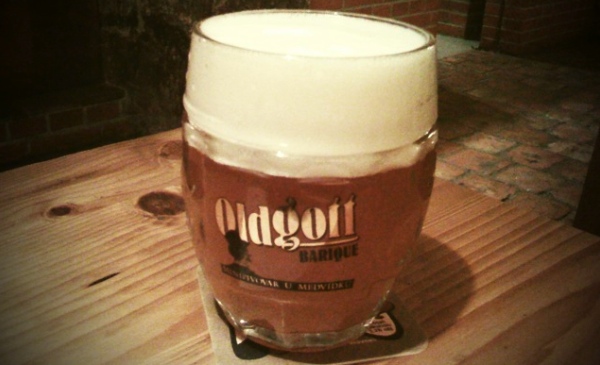 From the "Stories that Got Away" file: the great Prague pub U Medvídků is known for a couple of things. One is the never-ending supply of Budweiser Budvar rolling out in the cavernous beer hall downstairs. And for the past few years, the place has been hailed for its top-shelf — albeit tiny — brewpub upstairs, which makes limited amounts of a couple of great beers: the outstanding Oldgott lager and the extra-strong X-33 beer, a bottom-fermented beer that resembles a barley wine, both in its level of alcohol (12.6%) and its syrupy texture.
Both of those beers, however, are amber. If you wanted a pale lager — the country's most popular style — or if you felt like a dark beer at U Medvídků, you could only have Budweiser Budvar. But that's changed.
Since earlier this year, the upstairs microbrewery at U Medvídků has served its own pale lager. Called 1466, it's certainly not meant to compete with the Budvar 10° and 12° beers the pub serves in its beer hall: this is a pale lager brewed at 14.66° Plato, putting it up in the "speciál" territory, roughly analogous to a Bock.
The flavors here, however, are not Bocklike. There's malt but no plumminess. There's an unexpectedly aromatic hop presence from the use of whole Saaz hop cones. And there's not even a touch of alcoholic heat. For a beer brewed at 14.66°, the strength should probably end up just under 6%, but you'd be hard pressed to notice it in this case. What you get instead is a nicely full malt body with a very hoppy backbite, like a strong Pilsner, only more so.
(In appearance, it looks much like a Hefeweizen. It's that cloudy and pale in color.)
At 48 Kč for a half-liter, the 1466 pale lager is among the most expensive brewpub beers in Prague, but at least the portion is the full amount for grown-ups.
That's not the only news at U Medvídků. According to pub owner Jan Göttel, U Medvídků is thinking of expanding its production in the fall, which might allow them to sell more brews out of the house. That might mean you'll see bottles of X-33 in more specialty beer shops. It could even mean that you'll see Oldgott and 1466 on draft elsewhere in Prague.
And who knows? They might even end up brewing a dark lager someday.