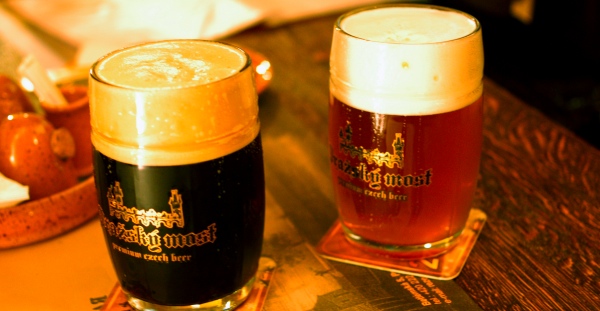 Sometimes it takes a while for a beer or a brewery to find high gear. A year ago, when the new Prague brewpub Pražský most u Valšů first tapped its own brew, it didn't make quite the same splash as Pivovar Bašta a few months earlier. Only one beer was available, a traditional pale lager, and it didn't do much for people who care about good Czech beer. Max Bahnson said it was nothing to write home about. I had the same impression, in as much as I stopped by, ate lunch, tried the beer, and didn't even bother writing about it.
What a difference a year makes. Now there are two beers available, and at least one of them's a firecracker.
Beyond the expanded beer list, there are other changes as well. There's a nice garden upstairs, which I didn't see last year. And the bargain 85 Kč ($4.50) lunch special they had last year appears to be long gone. I went by on Tuesday and found a two-course lunch special for 150 Kč, but at least that included a small beer. Large beers are still priced a bit on the high side, 45 Kč, but in the case of the new arrival, it's worth it.
The new brew is a 12° dark, but this is much more of a German Schwarzbier than it is a typical Czech tmavé pivo: it finishes slightly dry, not terribly sweet, and there's less coffee in the mouth than your average tmavé pivo. Czech brewing law doesn't differentiate between "tmavé pivo" (or "dark beer") and "černé pivo" (or "black beer"), but this is one case where I would suggest that "černé" should be used. Beyond just being black in color and dry in the finish, it's excellent.
The pale lager seemed improved as well, though without the same impact, perhaps because of the surfeit of great pale lagers in the country. To date, the Czech Republic only has a couple of these Schwarzbier-like black brews: the inspirational Bohemian Black Lager from Pivovar Herold and the great Flekovské pivo from U Fleků come to mind.