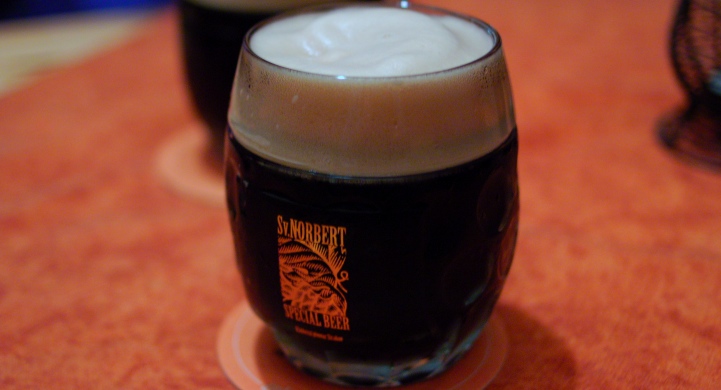 One of the big events of the December beer calendar in Prague is the arrival of the "Svatý Norbert speciální polotmavé vánoční pivo" at Klášterní pivovar Strahov, the brewpub on the Strahov Monastery grounds near Prague Castle. Also known as "Saint Norbert special half-dark Christmas beer," this strong lager shows up every year on December 5.
But before the beer's official arrival on Friday, things kicks off in true holiday spirit with a "Christmas Beer Mass" taking place inside the brewpub the evening before.
Described as the "Festive Sanctification of St. Norbert Christmas Beer," the holiday choral concert starts at 6 p.m. on Thursday, December 4, with a "Beer Mass" interpretation of the traditional "Hej Mistře" Czech Christmas mass by J.J. Ryba.
The "Beer Mass" will be performed by Collegium Strahoviense, the Strahov Temple Chorus and Orchestra, conducted by Vladimír Roubal.
Tickets for the beer mass, available at the brewpub, are 300 Kč and include beer.
Speaking of which, the Christmas special from Strahov is a renowned brew. Unfortunately, it doesn't easily fit into categories or beer styles that are particularly well-known abroad: the brewery says it is akin to a Doppelbock, though this beer is often far hoppier than most Doppelbocks. Brewed with Pilsner, Munich, Caramel and Carapils malts, I believe it is also a deeper amber color than most of the Doppelbocks at Starkbierzeit.
However, it perfectly fits into the Czech beer category of "vánoční" or Christmas beers, and it's easily one of the most interesting such brews in the country. Max Bahnson has a good description of last year's version over at Pivní Filosof.
Listed on the brewery's website at 19° Plato / Balling and 7.7% alcohol, I got the impression from brewmaster Martin Matuška that this year's version was actually brewed a touch stronger. Unfortunately, I won't make the concert myself, as I'm hosting a private beer tasting at the same time. But if you're interested in holiday cheer and great beer, the Czech beer mass at Klášterní Pivovar Strahov could be something for you.
You might even call it a religious experience.
Christmas Beer Mass
When: 6 p.m., Thursday, December 4, 2008
Where: Klášterní Pivovar Strahov, Strahovské nádvoří 301, Prague 1 (Tram 22 or 23 to Pohořelec)
Tel: +420 233 353 155
Cost: 300 Kč