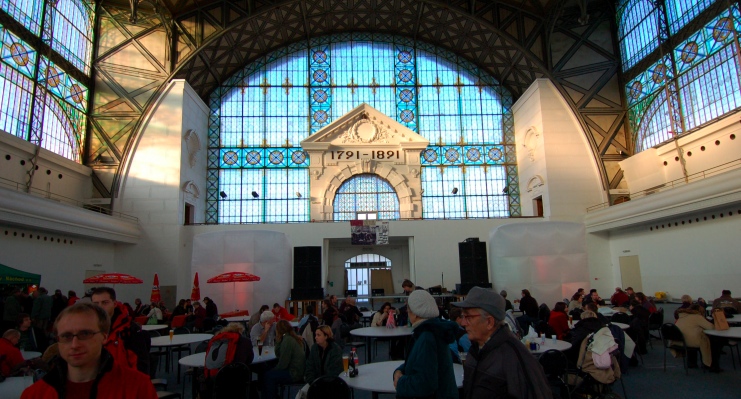 Last year saw the inauguration of Prague's Christmas Beer Markets (Vánoční pivní trhy), much like the Christmas markets that appear all around Europe at this time of year, only with a serious malt-and-hops theme. Taking place in a vast pavilion at Prague's Výstaviště exhibition grounds, the first edition featured craft and specialty beers from around the Czech Republic, as well as brews from Slovakia's Kaltenecker.
This year, the Christmas Beer Markets will return in a more refined locale: inside Prague's Mandarin Oriental Hotel, which will host the 2008 Christmas Beer Markets on December 20, 21 and 22.
The final details are still being set, but the early outline for this year's festival sounds terrific.
From the announcement at Pivnidenik.cz:
The 2008 Christmas Beer Markets will take place at the Mandarin Oriental Hotel (Nebovidská 1, Prague 1—Malá Strana; tram 12, 20 or 22 to Hellichova) on Saturday, Sunday and Monday, December 20–22.
There are two four-hour sessions on each day: from 13–17 and 18–22.
Entry will be limited to 300 participants at each session.
The entry fee for each session is 150 Kč and includes a commemorative .3-liter glass and a beer.
The entry fee for the whole day — two sessions — costs 250 Kč.
Entry to all sessions over all three days costs 500 Kč.
Tickets can be purchased at the hotel or at selected beer-friendly pubs in Prague: První pivní tramway, Zlý časy, Obžérství and Tlustá koala.
The final beer list is not yet set, but it will include specialty and Christmas brews from around the Czech Republic, as well as rarities from Belgium, Germany, Denmark, Norway and Slovakia.
To accompany the great beers, the Mandarin Oriental will also offer its outstanding classic Czech cuisine, Asian dishes, selections of cheeses and desserts.
In addition, the Christmas Beer Markets should include exhibits on homebrewing, beer festivals, and foreign breweries, as well as beer tastings and presentations on beer and gastronomy.
Beers at the Christmas Beer Markets will be both bottled and on tap. Guests will be able to buy bottled specialties to take home.
This is realy taking things up a notch from last year's Christmas Beer Markets, not least in terms of the location: the Mandarin Oriental is a very special place, composed of Gothic, Baroque and Renaissance architecture and newer additions, with its luxurious day spa housed in a former 14th century monastery. The wine cellar where we have our regular beer tastings and seminars as part of the hotel's Czech Beer Academy is one of the prettiest and most atmospheric such spots in Prague, and the hotel's Essensia restaurant serves some of the best Asian cooking in the country.
For most of us, this will be a rare chance to step into a refined world.
More details to follow soon. Mark your calendars now.