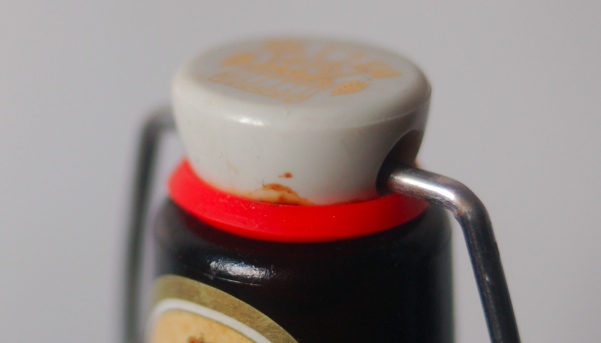 That picture shows how I knew it was working: a bit of brown liquid had blown through the rubber gasket on the swing-top. At the height of activity, the bottle was hissing like an asthmatic cat, releasing built-up carbon dioxide as the yeast did its work. It meant that my first experiment in beer hacking was successful, at least as a proof-of-concept. What remained to be seen was how it would taste.
What I started with was originally straight Pardubický Porter, a Baltic Porter from the Pernštejn brewery here in the Czech Republic. I liked the beer plenty, but sometimes I thought it was too sweet. And I wondered if I could change it using a minimal amount of effort. In particular, I wondered what it would taste like if it was inoculated with brettanomyces. So I filled a couple of swing-top bottles with draft Pardubický Porter and dosed them with the dregs from a bottle of Orval, which I knew should contain some brettanomyces.
I called it "beer hacking," meaning "modifying a commercial beer to suit your own tastes." The idea got some attention. Jeff Bell commented that he didn't think it would end well. William Brand wrote in to note that Orval actually has two yeasts in each bottle, so I'd be getting regular ale yeast as well as brett. And some dudes on Reditt started debating if it would work or not.
Oh yeah. It worked.