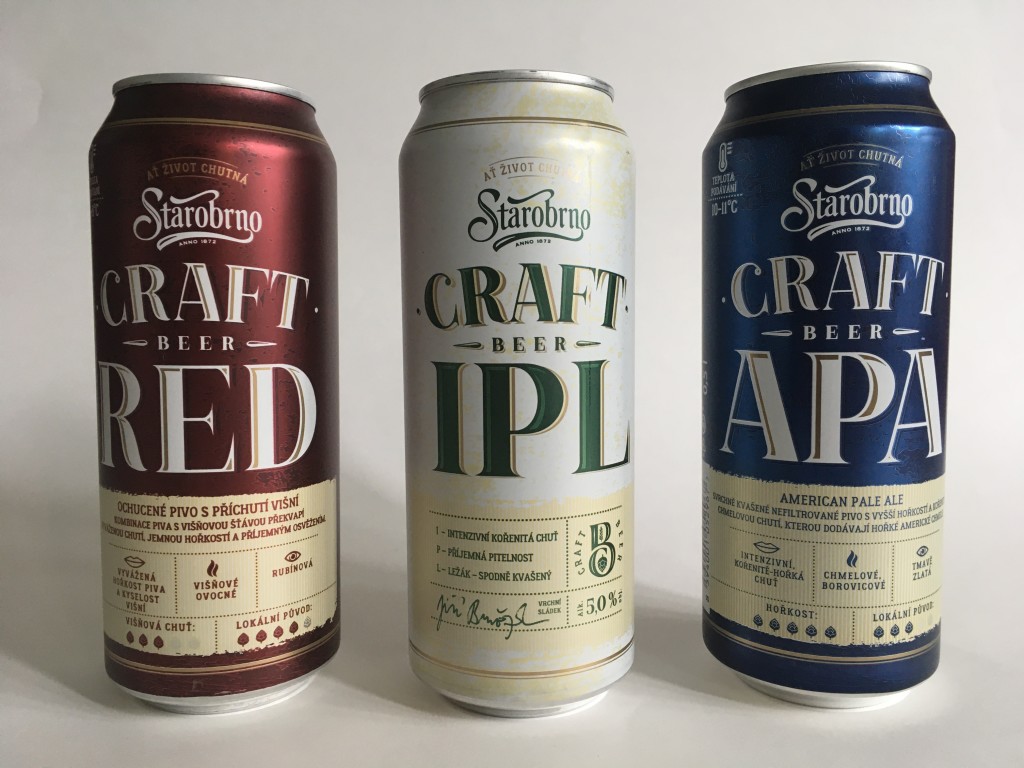 Even in the midst of a global pandemic, life goes on, and things which were put into motion long ago continue their slow journeys into the future. Gifted with the power of clairvoyance and asked to choose the worst possible release date for three new beers from Pivovar Starobrno, you'd almost certainly pick on or around March 18, 2020, a day when absolutely no one would notice.
At that point, most of us here had other things on our minds. March 18 was exactly one week after our schools closed, six days into the Czech Republic's formal state of emergency, and the very day that the Czech government announced compulsory mask usage in public — not that there were many people out. Here in central Prague, our streets were eerily quiet. Our case count was climbing, and though no one in the country had died yet, we all knew we had something serious ahead of us. No one had any masks, so people were digging out sewing machines and bolts of fabric and getting to work.
Flash forward 10 weeks and it feels like we're over the (first?) hump. Things in the Czech lands are cautiously reopening, at least for now, with pubs and restaurants allowed to serve drinks and food indoors as of May 25, and mask usage no longer required outside, provided you can maintain a 2-meter distance from others. (Masks do not have to be worn by customers while eating and drinking indoors, though they still must be worn by servers and there are new restrictions on customer counts and spacing between seats. Masks still must be worn on public transportation and in shops.) And at this point, the three new craft-inspired beers from Starobrno are two months old, and no one I know has tried them. No one has even joked about them. I only learned about them by seeing them in the list of available beers while ordering a food delivery for home last weekend.
What are they? And should you drink them?  
That depends. What they are is an American Pale Ale (APA), an India Pale Lager (IPL), and a cherry-flavored beer they call a "Red." The English words craft and beer are on all three labels — Craft Beer APA, Craft Beer IPL, Craft Beer Red — so it looks like yet another example of a large company emulating products from smaller producers. And we are certainly talking about a very large producer: Starobrno is owned by global giant Heineken and currently brews more than 1 million hectoliters of beer per year, most of which is classic Czech pale lager. Starobrno světlý ležák certainly doesn't have the reputation of Pilsner Urquell, but it's probably not the worst.
Though this country predominantly drinks traditional lager, foreign styles like IPAs and Pale Ales are a very small but growing part of Czech beer culture, especially among smaller breweries. As a result, many of the big breweries are experimenting with foreign or "craft" styles that are the bread and butter of breweries like Matuška, Raven, Falkon and Zhůřák.
Which brings us to the beers. None of them is a challenge to the great small producers of craft styles here, but there are some enjoyable elements among them. My take after tasting them:
Starobrno Craft Beer APA (5%) 
Deep gold in color, roughly the shade of Pilsner Urquell, with a bit of haze. The nose is fruity, citrusy and slightly piney. It smells like it's going to be nicely bitter, but there's just not much bitterness in the mouth; the tastes hinted at by the aroma do not arrive, and the result feels a bit watery. The upside is that you could drink a lot of this without getting palate fatigue, and there's no cardboard or off-flavor, which you can't always say about beers from smaller producers here. So yes, I'd probably order this again.
Starobrno Craft Beer IPL (5%) 
Again, deep gold, about the same as the APA, but perfectly clear — no haze. Faint nose with maybe a whiff of grapefruit peel and citrus blossoms. The taste has a bit of honey sweetness and the impact is one of a good industrial lager with some bitterness but otherwise pretty nondescript. Overall, I'm not sure I see the point of this beer. It's not bad, but it doesn't do much. I wouldn't buy it again unless there was really nothing else of interest available.
Starobrno Craft Beer Red (3.6%) 
Rosé (like the wine) in color with an aroma of cherry candies. Cherry beers are often medicinal and heavy-handed, but this one isn't. It tastes light and slightly lemony, like a cherry radler. I'm surprised to say that I might actually order it again: as a low-alcohol beer it might be nice on a hot summer day. But I'm probably not going to drink it very often.
These beers aren't for everyone, and there are, of course, over 400 small brewers here who definitely deserve your consideration: if you can order beer you like from a small, local brewery, I'd recommend doing that. But if you're still sheltering in place and ordering big grocery deliveries every week or so, you might slip a few of these into your next order.