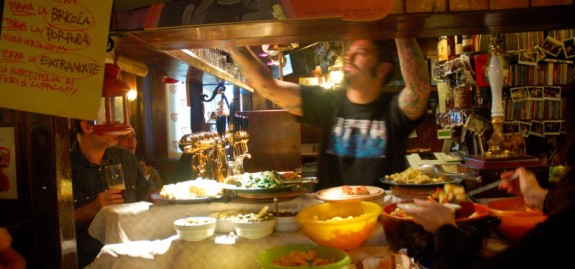 When she needed to make what she described as "some major life changes," Shannon Essa turned to beer — Italian craft beer.
The result is Ms. Essa's American tour company, Grape Hops, that offers trips to many of the up-and-coming microbreweries in Piedmont and Lombardy, along with more traditional wine and culinary adventures elsewhere in Italy and in Spain. Founded by Ms. Essa in partnership with Kim Riemann, an administrator for the slowtrav.com travel website, Grape Hops came about after the two heard about the region's burgeoning craft beer scene, which inspired them to start offering complete pre-planned trips as well as custom tours, hitting everything from Birrificio Montegioco to the great Lambrate brewpub in Milan, pictured above.
"We first put together an itinerary and we went over and did a dry run," said Ms. Essa, speaking on the phone from her home in San Diego. She recalled her first experience with the vibrant Italian craft beer scene as nothing short of amazing.
"They are cooking with hops, cooking with beer — they're experimenting with everything," she said. "We had pieces of veal that were breaded with hops. And they had desserts that they use beers that they infuse mint into and they make desserts out of that."
Among the many stops on the tours are the Grado Plato brewpub and Teo Musso's legendary Le Baladin.
"I loved Grado Plato, just because it was a cool spot and their beer was excellent," Ms. Essa said. "Le Baladin was great, because we visited their restaurant, not their pub, where they do the five-course meal and pair a lot of beer with it. Just in terms of an experience, from when you walk in the door until you leave, I've never experienced anything like that."
Indeed, most visitors have not attended many beer dinners quite like the multi-course meal taking place in Le Baladin's moody, caravansarai atmosphere.
"When you walk in the door and there's that music and that vibe, it's incredible," she said.
Upcoming tours include a trip in October this year, as well as trips scheduled for next March and May, one of which will be in partnership with a Brooklyn pub that serves many craft beers from northern Italy. In addition, Ms. Essa noted that Grape Hops can put together custom tours for four to six travelers, creating easy-to-enjoy, beer-themed vacations without a lot of stress.
"It's really cool for people who don't know Italy, don't speak Italian, don't want to drink & drive," Ms. Essa said. "All they have to do is arrive in Milan and depart from Torino. We get them their food, we get them their beer. It's a lot of fun."
While beer tours in Italy might sound different to some, Ms. Essa noted that much of the good vibes and friendly atmosphere are just like those in craft brewing circles elsewhere. Only perhaps more so.
"They're so passionate and they're so cool and they're so fun," Ms. Essa said. "They're Italian basically."