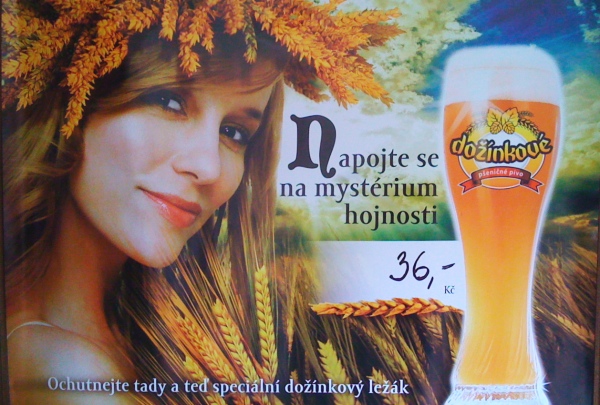 You're walking down the street in Prague, completely minding your own, when your eye hangs on a sign announcing a new beer. What stops you is an apparent error in the picture: instead of barley, the poster is adorned with what seems to be wheat.
Called Dožínkové pivo, the Czech Republic's newest wheat beer started to show up at pubs around the country this week. There are two surprising things about the appearance of a new wheat beer in Bohemia, not the least of which is the brewery making it. (Drumroll, please…)
First, the early word is that this beer is made by Heineken-owned Krušovice. Unless Dožínkové pivo is a total disaster, this move is going to earn them love from local craft beer fans even beyond the repair they seem to have done to the now-drinkable Krušovice Černé.
Second, Dožínkové pivo is only the second new Czech wheat I've heard about in the past 20-odd hours. Fans of Černá Hora might like to know that the makers of 1530 and Black Hill are coming out with their own wheat beer, Velen.
That's a doubling of Czech wheat beers (beyond brewpub offerings), from two to four, just this summer. Actually, before the return of Pivovar Herold's wheat beer this spring, only the well-loved wheat beer from Primátor was widely available in this country, meaning we've gone from one to four in just six months.
I saw Dožínkové pivo at the Krušovická pivnice on Národní 7 in Prague; it's apparently available at a few other Starobrno and Krušovice pubs around. The big question, of course, is how does it taste?
Quitting time's in about an hour and 20 minutes. I'll let you know after that.