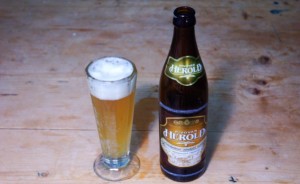 You hit the road for a few days of peace and solitude in South Bohemia and what happens? A great beer that has been AWOL for years suddenly returns to the scene.
The brew in question is the very nice wheat beer from Pivovar Herold, a brewery I pass each time I drive down to my wife's family's summer home in Písek. As I've mentioned before, the history of the brewery in the town of Březnice is covered in Ludvík Fürst's monograph "Jak se u nás vařilo pivo" (or "How we used to brew beer"). In that book, Fürst quotes documents mentioning the production of wheat beer at Březnice in the sixteenth century. When Herold reintroduced its modern wheat beers in 2002, they were the only Czech wheat beers available in bottles at the time.
That seemed to set off a small wheat trend here. Today, of course, we've got the nicely clove-scented Weizenbier from Pivovar Primátor, which is available in Tesco and other big supermarkets around the country. Many brewpubs have started brewing their own wheats; the Duchmaus wheat beer from Pivovar U Rybiček is even distributed in plastic bottles, a new development for many small Czech brewers. And yet as far as I can tell, Herold — one of the first Czech producers to make a name with wheat beers in the recent era — stopped brewing its own wheat by 2007.
Then came last summer's change of ownership. While the brewery's black lager remained strong enough to inspire imitations abroad, there were whispers that the new owners might make some changes, including the reintroduction of the wheat. And then, just in time for summer, a shipment of Herold's wheat beer was delivered to Pivovarský klub in Prague on Thursday, May 14.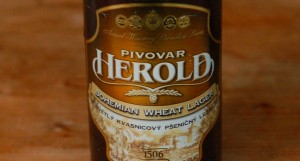 There's something interesting on the label: in English, Herold identifies this beer as "wheat lager," which seems to present a contradiction. As many beer fans know, "lager" is often used as a term for bottom-fermented beers, while wheat beers are mostly top-fermenting. However, that doesn't mean that this is a wheat-lager hybrid; as I understand it, this beer is still made using traditional top-fermenting wheat beer yeast. Instead, the term on the label is an English-language approximation of the Czech brewing term "ležák," which refers to the relative strength of the beer, covering those beers produced at 11° and 12° Plato or Balling. (The term "výčepní," literally meaning something like "tap" or "taproom," covers beers brewed at 9° and 10°, even those which are not served on tap or in taprooms.)
So how does Herold's "wheat lager" taste?
Good. It pours a very pretty, cloudy gold with a fluffy white head. There's not nearly as much clove in the nose as in other beers; instead, I thought I noted tobacco before I detected a bit of clove on the palate as well as some pronounced barley malt flavors. Perhaps it's the "wheat lager" on the label, but I thought it was a very Pilsner-like Weizen, reminding me of Weltenburger's Hefe-Weißbier Hell in its citrus notes. It has a very light body and is very easy to drink.
The next time you drive by Březnice, you have a very good reason to stop and pick up a case. And while Primátor's Weizenbier has had a near-constant presence on Pivovarský klub's tap #6, that should change in the near future: the delivery last Thursday included bottles as well as several kegs, meaning you'll be able to try Herold's wheat beer on draft at Pivovarský klub for a good while to come.