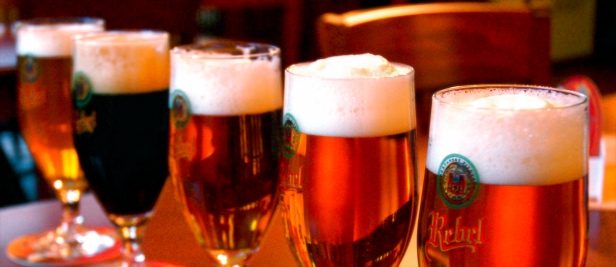 In the minds of a few small thinkers, wine remains the only suitable drink to go with haute cuisine. But in recent years, there has been more and more widespread acknowledgment of the role of beer in quality food and drink pairings.
Among those noting the versatility and depth of beer is the British wine writer Jancis Robinson, who wrote that at one multi-course tasting paired with both beers and wines, she preferred the beers four times out of six. In the USA, Brooklyn Brewery's Garrett Oliver has done extensive work with food and beer, as have Susan Nowak, Ben McFarland and Will Beckett, among others, in the UK. Then there were the surprising words of one wine steward in the German edition of Sommelier a few years back, who explained the inclusion of a great craft Pils among his recommended pairings by saying "Sometimes the best wine for the job is a beer."
Recently, more and more food and beer pairings are taking place in Prague, a city that surely loves its beer, but rarely takes it seriously in terms of fine dining.
As far as I recall, the first quality restaurant to take beer seriously here was Essentia, inside Prague's Mandarin Oriental hotel, where I contributed a list of Czech craft beers which chef Ari Munandar has used to accompany his outstanding pan-Asian cuisine, and where I continue to lead beer tasting seminars every month or so. And working with chef Roman Paulus last year, I helped the Radisson SAS Alcron hotel's La Rotonde restaurant come up with a list of Czech craft brews to use as pairings in its food-and-beer menu (PDF), built around classic Czech recipes.
Now, in partnership with the local Slow Food organization, Prague's Pivovarský klub will host a six-course food-and-beer menu this Thursday. Called "Pivo v poháru i na talíři," or "Beer in the Glass and on the Plate," the dinner offers six courses, each of which includes beer as an ingredient, and each of which is to be paired with a specially chosen lager or ale. Attendees will receive the recipe for each dish as a souvenir.
While some of the dishes may be familiar to visitors of Pivovarský klub and its sister restaurant, Pivovarský dům, a few will be entirely new. "There will be a beer soup which we don't have normally, and rabbit rolls braised in beer," said Pivovarský klub manager Aleš Dočkal, who described the dinner as "something I've been thinking about for a long time."
The price for this one-off special event is 500 Kč, with a reduced fee of 333 Kč for holders of the Pivovarský klub card and members of Slow Food.
Space is limited, and reservations will be taken only through Tuesday, January 20.
Beer in the Glass and on the Plate
Thursday, 22 January, 7 p.m.
Pivovarský klub
Křižíkova 17, Praha 8-Karlín
Tel. +420 222 315 777
Price: 500 Kč; reduced price of 333 Kč for Pivovarský klub members and members of Slow Food