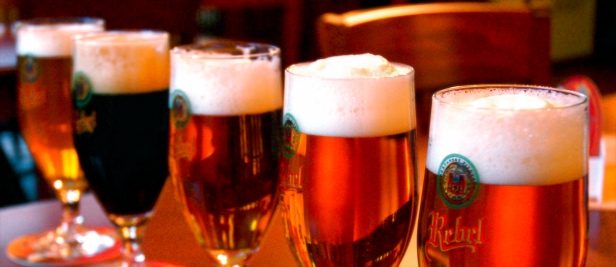 There's a Czech expression that says that the quality of a pint depends half on the brewer, half on the barman, but the truth is that much of it happens long before either one is involved.
Beyond mere brewing and tapping, it is the incredible high quality of Czech raw ingredients — Haná malt; Saaz hops; extremely pure and remarkably soft water; excellent strains of yeast — which allows this country to produce some of the world's greatest lagers.
On Thursday, November 13, 2008, I'll be leading another beer tasting and seminar in the wine cellar of Essensia restaurant, inside the Mandarin Oriental hotel. The combined dinner, talk and tasting will last about three hours.
In addition to excellent lagers and ales, many of which are never seen in Prague, Essensia will serve some of its outstanding Czech and Asian culinary specialties. This is not a pub session, but rather akin to a five-star restaurant meal accompanied by some truly great beers and a spirited discussion on Czech brewing, with a special focus this time on raw ingredients.
At this tasting, you won't just look for the aroma of Saaz hops in your beer — you'll have a handful of raw Saaz hops with you in order to compare. You won't just taste the malt notes in the lagers and ales — we'll actually taste raw Haná malt, too.
Earlier tastings in this series have been received very positively. You can read a review of one beer tasting at Beer Oh Beer. The food blog Cuketka has another review of a beer tasting in Czech.
If you're interested, here are the details from Essensia and the Mandarin Oriental on the third seminar of their Czech Beer Academy:
"Raw Materials: What Makes Czech Beer Czech?"
On Thursday, 13 November, 2008, the wine cellar beneath Essensia restaurant will host the third seminar of the Czech Beer Academy at Mandarin Oriental, Prague.
This seminar and guided tasting (in English) will be led by Evan Rail, a Prague-based writer specializing in beer and travel. Our third seminar's theme is "Raw Materials: What Makes Czech Beer Czech?"
During the course of the evening, participants will have a chance to discuss and taste seven different kinds of new, top-quality Czech beers, and discover the raw ingredients behind them: the world's most expensive hops, best barley, original yeast strains and extremely pure water. The tasting will be complemented by an array of Czech and Asian specialties prepared by Essensia restaurant.
Date/Time: Thursday, 13 November, 2008, 7 p.m.—10 p.m. (A seminar on Czech Christmas beers will be held on December 18, 2008; further events will take place in 2009.)
Price: 1,150 CZK per person
Reservations: Kindly contact us at at the telephone number +420 233 088 612 or the e-mail address moprg-pr@mohg.com. Reservations are accepted on a first-come, first-served basis.