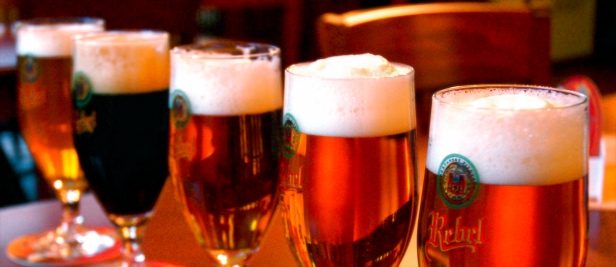 The tradition of Czech brewing may go back more than a thousand years, but it's also clearly moving forward. Beer lovers here have been thrilled by recent developments like the appearance of Pivovar Bašta and other new brewpubs, cutting-edge new regional breweries like Pivovar Kocour Varnsdorf, and the reappearance of older styles such as Klostermann amber lager — all of which have arrived since the publication of Good Beer Guide Prague and the Czech Republic last May.
To that end, I'm doing another seminar, this time one titled "New Brews: Recent Developments in the Czech Brewing Scene," which will take place Thursday, 3 July, 2008, in the wine cellar of Essensia restaurant (inside the Mandarin Oriental hotel). The combined dinner, talk and beer tasting will last about three hours.
In addition to a slew of new lagers and ales, many of which have never been seen in Prague, Essensia will serve its delicious Czech and Asian culinary specialties. Think of it as a luxurious meal in a five-star restaurant — only one which is accompanied by some truly great beers and a spirited discussion on the history, news, background and future of Czech brewing.
And then there is the beer list to consider.
Herewith the provisional selection of what we'll be tasting on July 3:
Roggenbier, Pivovar Kocour Varnsdorf
Klostermann, Pivovar Strakonice
Opat Bitter Extra-Chmelené, Pivovar Broumov
Xantho, Pivovar Žatec
Mary-Jo, Pivovar Regent
Stout, Pivovarský dům
Saison, Pivovar Kocour Varnsdorf
For me, each of these beers tells us something about what makes Czech beer so interesting, whether it is the use of world-class ingredients like Haná barley and Žatec/Saaz hops, a tendency for creativity and innovation, or a desire to recapture some of the region's long-lost brewing traditions. The first talk we did was an amazing amount of fun; this one promises to be even better.
If you're interested in attending, these are the details from Essensia and the Mandarin Oriental on the second event of what they're calling the Czech Beer Academy:
"New Brews: Recent Developments in the Czech Brewing Scene"
On Thursday, 3 July, 2008, the wine cellar beneath Essensia restaurant will host the second seminar of our new Czech Beer Academy at Mandarin Oriental, Prague.
This seminar and guided tasting (in English) will be led by Evan Rail, a Prague-based writer specializing in beer and travel. Our second seminar's theme is "New Brews: Recent Developments in the Czech Brewing Scene."
During the course of the evening, participants will have a chance to discuss and taste seven different kinds of new, top-quality Czech beers. The beer will be complemented by an array of Czech and Asian specialties prepared by the Essensia restaurant.
Date/Time: Thursday, 3 July, 2008, 7 p.m.—10 p.m. (Future seminars will be held in October and December 2008; dates are yet to be announced.)
Price: 1,150 CZK per person
Reservations: Kindly contact the Concierge at the telephone number +420 233 088 605 or the email address moprg-concierge@mohg.com. Reservations are accepted on a first-come, first-served basis.