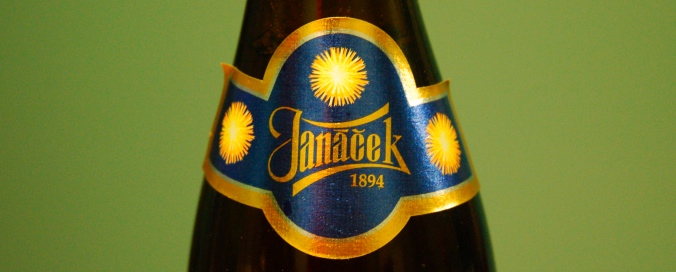 Have pity on your local beer writer at Christmas: tracking down Czech Christmas brews can be an arduous and confusing task. Many breweries — even great Czech micro and regional breweries like Chodovar and Regent — simply put holiday-themed labels on their regular products and then call them Christmas beers. Other breweries — like Bernard in the case of their Sváteční ležák — have had formerly seasonal holiday beers turn into year-round offerings.
But real Christmas beers — the seasonal, limited-edition winter brews called vánoční ("Christmas") or sváteční ("holiday") — do exist in the Czech lands. And they're just now starting to appear at pubs, supermarkets and beer stores near you.
Often brewed around 14° Plato (or Balling), many Czech holiday and Christmas beers are usually just a bit stronger in alcohol than the country's regular premium beers, which generally weigh in around 5%. (Many Czech holiday beers, of course, can be much stronger.) Virtually all of the Czech versions are lagers, roughly equivalent to Germany's Bock and Doppelbock beers, and they often veer towards the sweet rather than the bitter side of the street.
One of the first I've seen so far — on sale in Prague at Pivní Galerie — was the Vánoční speciál from Pivovar Janáček, which was said to be an excellent beer in 2007. Brewed at 14° Plato, this year's version is similar to the brewery's oft-lovely Comenius strong pale lager. Just like Comenius, the Vánoční speciál has 6% alcohol, though it seems to pour a much deeper color than Comenius, amber rather than gold, with a loose white head.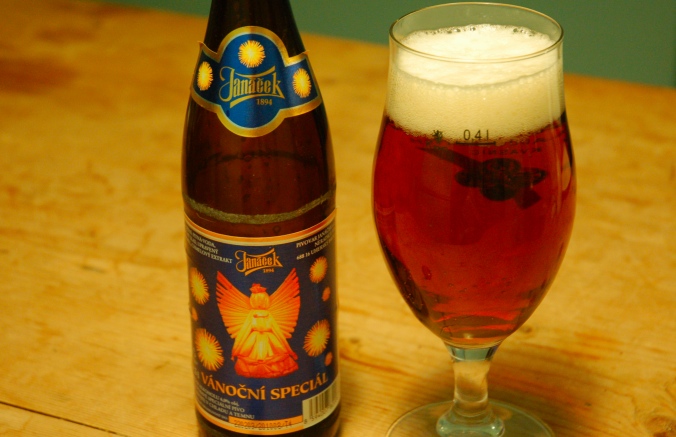 The nose has notes of rich malt and a slight spice touch hinting at cloves. In the mouth, there's a nice sugary bite and a touch of whole-grain bread followed by fresh hop flavors. The body is slightly thin for a special lager, but the higher amount of alcohol is perfectly in balance. The beer finishes with a prickly, peppery bite of Saaz hops, making it perhaps a good pairing for a roast or other rich holiday meals. Not at all overstated, Janáček's Vánoční speciál is still quite a nice little beer, definitely living up to its reputation, and something you could easily have more than one of on a celebratory holiday eve.
Over the next few weeks I'll write about more Czech holiday and Christmas beers, including the Opat 17° from Pivovar Broumov, the Speciál 14° from Pivovar Poutník and the Vánoční speciál from Krakonoš. And on Thursday, December 18, I'll host a beer tasting featuring Czech holiday beers at Essensia, inside the Mandarin Oriental Hotel, as part of their Czech Beer Academy. (The cost is 1,150 Kč; the tasting and seminar includes the restaurant's excellent Asian cuisine and should last about three hours. For reservations, contact the hotel at Tel. +420 233 088 612 or via e-mail at moprg-pr@mohg.com.)
Yeah, it's a tough job tracking down these rare, seasonal brews that are, I'm sure, never even heard of outside the Czech Republic. But someone's got to do it.