There are currently just 11 breweries in Prague: ten micros (U Fleků, Pivovarský dům, Novoměstský pivovar, Richter, the university brewery at Suchdol, the closed-to-the-public school brewery at SPŠPT, Klášterní pivovar Strahov, Pivovar Bašta at U Bansethů, U Medvídků and the new U Valšů) and just one mega-brewer, Staropramen.
But of course years ago there were dozens of small brewers all over the Czech capital. The Czech national archives have plenty of references to brewers who haven't been around for years, many of which were in locations around Prague that might surprise you.
For example, the catalog from the Všeobecná zemská výstava, Prague's jubilee exhibition of 1891, has an advertisement listing several popular breweries of the day, one of which — Pivovar u Bílé labutě — was right where the Bílá labuť department store is on Na Poříčí today.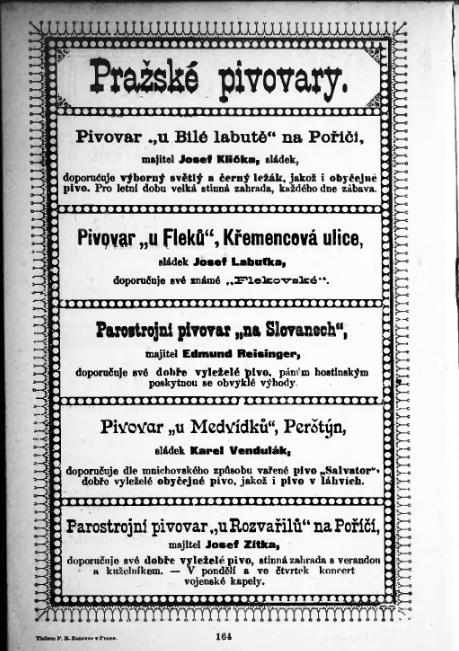 Just across the street, Pivovar u Rozvařilů stood approximately where Archa Theatre is today. It brewed for nearly 600 years, from 1340 until its closure in 1922.
Of the breweries in the advertisement, both U Fleků and U Medvídků are still going, though the tiny brewpub at U Medvídků is a brand-new addition from 2005; the old brewery there functioned only until 1898.
It's interesting that three of the five breweries prominently feature the name of their sládek, or brewer, in bold type.
And in contrast to the 95% pale lager consumption at today's pubs, the ad notes that at least the brewery at U Medvídků was offering a so-called "Salvator" beer, "brewed according to the Munich manner." This would be a Doppelbock akin to Paulaner's Salvator and other strong lagers served at Starkbierzeit.
Catering to diverse tastes, in 1891 U Medvídků was also offering "well-lagered regular beer, as well as beer in bottles." Bottled beer is decidedly unpopular in Prague pubs today, and virtually no one advertises how "well-lagered" their beer is anymore.
Rummaging through the archives brought me all the way home: an earlier building at the address where I live once housed the brewery U Šetelů, founded in 1612, according to Pavel Novotný's "Petrská čtvrt dům od domu" (Libri, 2008). After 1794, the house was rebuilt with a new brewery, Pivovar u Čapků, which closed in 1890, according to Pivovary.info's excellent Prague breweries history page.
Most of these breweries were what we would call brewpubs today, with production of just 1,000 hectoliters per year in the case of Pivovar u Čapků, and most of it sold on the premises. In some ways, the recent arrival of new brewpubs in Prague — two in the last year with at least one more opening next year — is the same "return to normality" that Garrett Oliver used to describe the rise of craft breweries in America.
So what kind of beer were the old Prague brewpubs selling? It depends on the era. Though lager beers existed in Bohemia hundreds of years ago, lager brewing really started to spread only after 1840, when the brewmaster Vojtěch Wanka first started making bottom-fermented beers in the Prague brewery U Primasů, right on Wenceslas Square, according to Marie Černohorská's article "The beginnings of bottom fermented beers in Bohemia" ("Kvasný průmsyl," 5/2004). NB: that's two years before the invention of Pilsner Urquell in 1842.
Before that, the book "Vypravování z domácího života starých Čechů" (Nákladem kněhkupectví Mikuláše a Knappa, 1875) — a title which roughly translates as "Storytelling from the domestic life of old Czechs" — compares "Prague wheat beer, called white" in quality and taste to the revered wheat beer from the western Bohemian town of Stříbro, which was favored in Nuremberg. "Excellent bitter beers were brewed all over Old Town and New Town in Prague," the book says, with one big exception: Malá Strana, the district just under Prague Castle, which, it was said, couldn't brew a decent beer despite all efforts to the contrary.